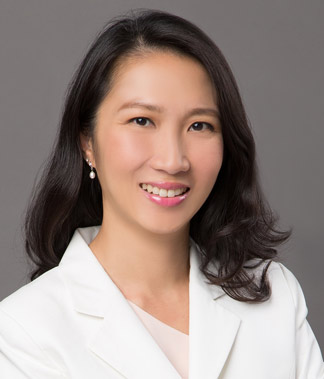 Consultant and Medical Director
Adult & Child Eye Clinic
MBBS (Singapore), MRCSED (Ophth, UK)
MMed (Ophth, Singapore)
FRCSEd (Ophth, UK)
Fellowship, University of Toronto (AAPOS accredited, ACGME)
CV Highlights
Medical Director, Adult & Child Eye (ACE) Clinic 2019
Adjunct Assistant Professor, Department Of Ophthalmology, NUS Yong Loo Lin School of Medicine
Immediate past Head of Paediatric Ophthalmology and Strabismus, National University Hospital Singapore (NUHS)
Meritorious Service Award for Eye and Vision Health Awards 2017
International member of the American Association for Pediatric Ophthalmology and Strabismus since 2016
Member, Paediatrics Subspecialty Committee, College of Ophthalmologists, Academy of Medicine, Singapore since 2016
Fellowship at Hospital for Sick Children, Toronto, Canada 2013
Fellow, Royal College of Surgeons of Edinburgh since 2013
Reserve Valedictorian, Faculty of Medicine, NUS 2005
Singapore Medical Association Medal 2005 for MBBS
Yeoh Khuan Joo Gold Medal for Surgery 2005
Multiple research grants and publications on myopia, strabismus and cataracts
Dr Ngo obtained her medical degree from The National University of Singapore and was the reserve Valedictorian and awarded the Singapore Medical Association Medal for MBBS and the Yeoh Khuan Joo Gold Medal for Surgery in 2005. She completed her specialist ophthalmology training in Singapore, holds a Master of Medicine (Ophthalmology), Singapore and received a medal for her fellowship examination in Ophthalmology. She is also currently a Fellow of the Royal College of Surgeons of Edinburgh.
Dr Ngo was awarded the Academic Medicine Development Award FY 2013 and completed a prestigious subspecialty fellowship training at the Hospital for Sick Children, Toronto, Canada, and is proficient in management of complex strabismus/squint cases, retinoblastoma (childhood tumour of the eye), retinopathy of prematurity, paediatric cataract, glaucoma and neuro-ophthalmology cases, as well as adult cataracts.
Dr Ngo was the immediate past Head of Paediatric Ophthalmology and Strabismus in the National University Hospital Singapore (NUHS) from 2014-2019 as well as the Research Director and an Assistant Professor of the Yong Loo Lin School of Medicine. She remains as a visiting consultant to NUHS and an Adjunct Assistant Professor at the Department Of Ophthalmology, NUS Yong Loo Lin School of Medicine.
Dr Ngo's research interests centre on children's eye diseases including myopia as well as strabismus/squint and adult cataracts. She was awarded the New Investigators Grant from the National Medical Research Council, which provided $125,000 research funding for her work on the "Birth parameters, early life course factors, and associations with myopia in young children [GUSTO-EYE]." She has more than 40 publications in international journals, and has also been invited to be a reviewer for several international ophthalmic publications as well as local grants.
Besides managing all aspects of general ophthalmology including cataract surgery and laser procedures, Dr Cheryl Ngo has special interests in strabismus surgery (adult & paediatric) and paediatric ophthalmology including anterior segment diseases, refractive errors and learning disabilities in children.
Dr Ngo has received commendation letters from her patients for her clinical work and received the Meritorious Service Award for Eye and Vision Health Awards 2017. She volunteers regularly in medical missions to China and South East Asia.
To schedule an appointment with Dr Ngo, please call 6777 6058. Alternatively please send us an enquiry.